How To Start Hair Business: 6 Amazing Secrets For Success
How To Start Your Hair Business Successfully?
You are a newbie in hair business? You want to start hair business but don't know where to start? You don't have enough budget to start your hair business? If you are having the same above questions, then this post is for you! All tips on how to start hair business successfully are revealed here!
I. What Should I Prepare: How To Start Hair Business?
Successful people are the ones who always have careful preparations for any work they do. Plans and complete preparations are keys to success. Therefore, if you want to start your hair business and be successful in hair in bulk wholesale or retail, then you should follow these things:
Tips share by Mrs Cherry Expert. For more useful tips, please join this group or contact Mrs Cherry hotline whatsapp to ask about buying good quality hair: +84855588000
1.1. How to start hair business: Have A Profound Interest In Hair Business
You just can do the best in the field you like. This slogan is also true to start your hair business. If you have a profound and intense interest in hair business, then I sure you can show off all your talent ability in this field.
In fact, the interest can come from many sources. It can be a family tradition, an accidental interest or an advised direction, etc. No matter how early or late you find the interest, it is never late to start your desire.
1.2. How to start hair business: Have An Amount Of Budget
You can't start your hair business if you don't have money right. Money is not all, but it is necessary to start any kind of business. So if you have an intention of getting into hair business next year, you should save money up from this year to spend a budget of capital!
Then, when you have enough mone, you also have to consider how to use that money to import hair from reliable suppliers. If you are from Brazil, you can read this for more details: How to import hair to Brazil.
1.3. How to start hair business: Have A Clear Target: Online Business Or Open A Store?
Determining your target hair business is very very important. You must know what is your plan and what you want to do. Do you want to start from online business or opening a hair store? Only when you know what your target is then you can have a step by step plans for your har business. Each type of business will have a different way to approach it!
The most correct way to make a decision on your own direction is to do enough research beforehand. You need to make sure that what it will be like when you start an offline or online business. As a result, you can easily choose the suitable target and the best vision for your hair business.
1.4. How to start hair business: Have A Details Plan
Build up your plans in detail. You can use a notebook to write down all your plans for hair business. Create milestones for targets and try to complete them. Remember to apply deadlines for each milestone to make pressure on your self to motivate you. For example, you want to start hair business next year, in 2021. Then you should list up your details plan from this year to prepare. This is an example list:
Learning about the hair business knowledge. Reading more post like Top 1 Hair Factory: New Truths about Wholesale Hair Factory – Deadline: From 12/4/2020 to 12/5. After 1 month, I can be an authority on hair business
Save up 100USD each month for hair business – Deadline: From 12/4/2020 to 12/4/2021: After 1 year, I can save up 1200USD + support money from my family, I will have 2000USD to start my hair business
Finding a good vendor – Deadline: From 12/5-12/10: After 5 months, I must find a good hair vendor( good quality+ reasonable price) to accompany with me in my business.
Order samples from vendors to test………
IF YOU ARE STILL NOT SURE ABOUT HOW TO START HAIR BUSINESS.CHECK OUT THIS VIDEO!!

THIS IS MADE FOR YOU MY DEAR!
II. 6 Secrets On How To Start Hair Business Successfully!
After you have careful preparations. Follow these 6 magic tips to start your hair business successfully!
2.1. How to start hair business: Choose Suitable Time To Start
Period of time to start your hair business plays an important role. It decides up to 70% of your success.
If you start your hair business in suitable time like: golden year of business, business grows well, festival time, president election time, holiday time,… then the demand of customers are very high. They buy hair a lot. It is best time for you to start your hair business with potential hope.
In contrast, if you start your hair business as human hair bulk suppliers in a difficult time like world pandemic (coronavirus), drought seasons, outbreaks, unrests,… then the demand of customers is very small. They just stay at home for safety, can't go anywhere to show off their beauty. Therefore, it will be not proper time for you to start a hair business
2.2. How to start hair business: Choose a RELIABLE FACTORY VENDOR
Finding a reliable factory vendor is really important. A good factory can accompany with your hair business to the pinnacle of success while other bad factory vendors can ruin your hair business. Therefore, choosing a reliable hair vendor is really necessary.
Please remember to spend a lot of time in searching and joining many hair groups on Facebook to gain information. In addition, Instagram, Youtube or Twitter are also useful platforms.
Here is a list of BEST WHOLESALE RELIABLE HAIR FACTORY IN VIETNAM, which is loved and choosen by many Nigeria hair sellers and salons in the world. Click here to find out for now!! CLick CLick Here!!
2.3. How to start hair business: Willing To Accept The Worst Situations In Hair Business
You really have to love what you are doing, so you don't GIVE UP. Business must have UPS AND DOWNS!! Today you can receive bad feedbacks from customers or many difficulties in your hair business but don't give up, just try THE BEST OF YOUR ATTEMPT. You have gone in a long way, have gone through many barriers, so let's think to reason why you started before you give up. DON'T GIVE UP!
And to overcome the worst time, having a strong mindset is the most important but not the only thing you need. You always need backup plan for the best confidience! Therefore, please never forget to prepare every possible issues in advance.
2.4. How to start hair business: Start To Sell With A Super Sale Promotion!
You can follow the trend in the hair market or in the world and run a super sale season for your hair business to get customers' attractions. Everyone loves sale deal right? Start your hair business with a super sale promotion can bring about many potential customers, and these customers maybe will be your loyal customers in the future. Selling at cheap price first to get customers' feedbacks and then increase the price to a rate which brings about benefits to you.
Besides, please also remember that price is just the temporary attraction. The most important factors for long-term sales are the very hair quality and customer services. Therefore, never chase the short-term benefits and ignore the important long-term ones!
2.5. How to start hair business: Take Advantages Of Social Media As A Way To Advertise Your Hair?
Now is 4.0 social media age, the internet explodes strongly. Potentials customers gather in social media. Let's take advantage of social media platforms to advertise your hair business.
The speed of spreading is very strong. Be available in Instagram, Facebook, Linkedin, Twitter, Alibaba, Pinterest,… to approach all potential customers and create your own brand name.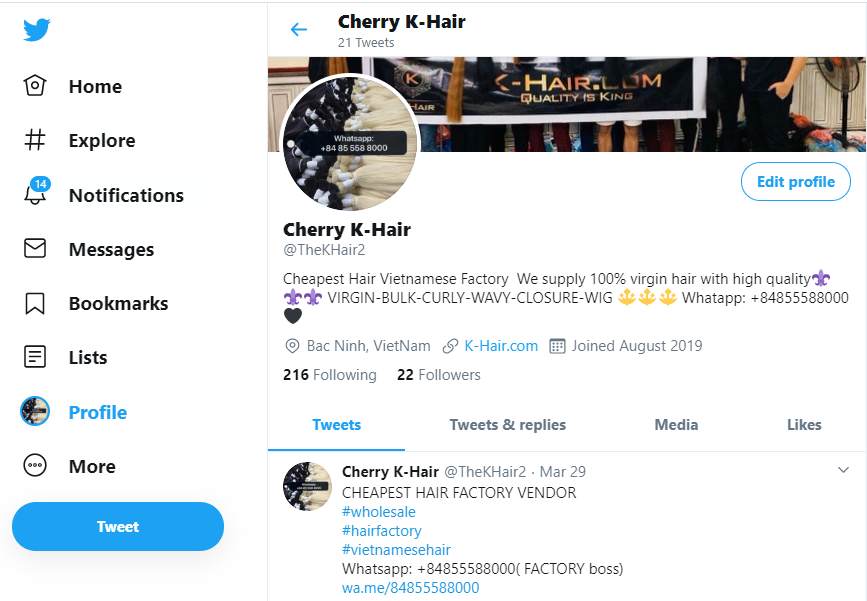 2.6. How to start hair business: Create A Brand Name With Special Logo
A Hair Bussiness Brand Name is compulsory to start hair business. An impressive band name and logo brand will be the sign for customers to remember and recognize your brand name with other hair brands. Try to make the name and brand logo special and prominent among other hair vendors!
Doing business is very important and it needs careful preparations before starting hair business. The better preparations, the more successfull. If you have intense interest in hair business, follow your heart and do it from now! Also remember that, you'd better try to be a hair expert, then your customers can get advice and rely on you. You will easily build prestige and boost the sale! For example, when your customers ask you about hair extension customizing such as styling curtain bangs or so on, please make sure that you are able to answer all!!!
III. Best guide on how to start hair business
Above are all about preparation and secrets to know first when learning how to start your own hair business. Now we move to another important part. Let's see what are the particular steps to follow to start a hair business successfully.
3.1. How to start a hair business step by step
In fact, it is not so difficult to lead a hair extension business by yourself as long as you follow these steps. They are all the basic ones that anyone can understand and master.
Step 1: Do your research and have a specific plan first. The point is what you need to research! We highly recommend that you do research and understand these 4 things thoroughly: hair extension products, hair extension users (customers), wholesale hair suppliers and the overall market with competitive characteristics in types, styles, quality, prices, services, etc from competitors. To do so, the easiest way is to check the information on the Internet. It is so varied and free. However, please be critical as not everything is believable. If you have acquaintances in this business, then it is much more convenient!
Step 2: Prepare time and money. If you want to know how to start hair business and be a professional seller with a good store for major offline sales, you need to spend money on renting, buying new equipment for the office, importing hair extensions in quantity and many other things for pre-sales marketing campaigns. You may also have to hire some staff to help you with the business as well.
Step 3: Import the hair and get ready for the first deals. After you get enough research and money, please import the hair and set up the store. You need to make sure that you had sample orders before and you are content with the quality and price. After that, you can finally import the hair in quantity for the sales. Along with this task, don't forget to promote your store by making use of relationships and free online platforms like Instagram, Facebook, Twitter, Youtube and so on.
Step 4: Open your store and make the first deals! As long as everything is ready, you can choose a good sunny day to start your business! Please remember that the hair quality and customer services are the major reasons for customers coming and returning. Therefore, you'd better put them first!
3.2. How to start a hair business with no money – How to start a hair business online
How to start hair business with no money? Is it possible or not? In fact, it seems impossible to start a business with literally no money. However, don't be pessimistic as you can totally cut all the costs down to such an amazingly small number! The key here is to make use of the Internet to get a variety of free "investments":
Free lessons:

The information on the Internet is free, so you can get all you want to know about hair extensions, customers, suppliers, markets, business opportunities and threats, etc there. As long as you have further judgments afterwards, these lessons are free but invaluable!

Free marketing:

This sounds so impossible but you know what, your social media are exactly the best channels for product promotion. They are especially free! You just need to be patient and wisely promote your hair extensions on the Internet, they will gradually reach a great number of potential customers that you may never think of!

Free rent:

Starting with an online business, your social media platforms are your store! This means there is no need to pay the rent or equipping, human resource hiring or so on. You will be able to cut down on a number of costs.
That's how to start hair business with "no money". As mentioned, every preparation is free. You just need to pay for the hair. However, if you make the best use of the Internet to promote the products and boost your sales, the very first deals will soon give the profits back to you!