Start Hair Business: 6 Amazing Secrets For Success
How To Start Your Hair Business Successfully?
You are a newbie in hair business? You want to start hair business but don't know where to start? You don't have enough budget to start your hair business? If you are having the same above questions, then this post is for you! All tips to start hair business successfully are revealed here!
I. What Should I Prepare To Start My Hair Business?
Successful people are the ones who always have careful preparations for any work they do. Plans and complete preparations are keys to success. Therefore, if you want to start your hair business, then you should follow these things:
Tips share by Mrs Cherry Expert. For more useful tips, please join this group or contact Mrs Cherry hotline whatsapp to ask about buying good quality hair: +84855588000
1. Have A Profound Interest In Hair Business
You just can do the best in the field you like. This slogan is also true to start your hair business. If you have a profound and intense interest in hair business, then I sure you can show off all your talent ability in this field.
2. Have An Amount Of Budget
You can't start your hair business if you don't have money right. Money is not all, but it is necessary to start any kind of business. So if you have an intention of getting into hair business next year, you should save money up from this year to spend a budget of capital!
3. Have A Clear Target: Online Business Or Open A Store?
Determining your target hair business is very very important. You must know what is your plan and what you want to do. Do you want to start from online business or opening a hair store? Only when you know what your target is then you can have a step by step plans for your har business. Each type of business will have a different way to approach it!
4. Have A Details Plan
Build up your plans in detail. You can use a notebook to write down all your plans for hair business. Create milestones for targets and try to complete them. Remember to apply deadlines for each milestone to make pressure on your self to motivate you. For example, you want to start hair business next year, in 2021. Then you should list up your details plan from this year to prepare. This is an example list:
Learning about the hair business knowledge – Deadline: From 12/4/2020 to 12/5. After 1 month, I can be an authority on hair business
Save up 100USD each month for hair business – Deadline: From 12/4/2020 to 12/4/2021: After 1 year, I can save up 1200USD + support money from my family, I will have 2000USD to start my hair business
Finding a good vendor – Deadline: From 12/5-12/10: After 5 months, I must find a good hair vendor( good quality+ reasonable price) to accompany with me in my business.
Order samples from vendors to test………
IF YOU ARE STILL NOT SURE ABOUT HOW TO START HAIR BUSINESS.CHECK OUT THIS VIDEO!!

THIS IS MADE FOR YOU MY DEAR!
II. 6 Secrets To Start Hair Business Successfully!
After you have careful preparations. Follow these 6 magic tips to start your hair business successfully!
1. Choose Suitable Time To Start
Period of time to start your hair business plays an important role. It decides up to 70% of your success.
If you start your hair business in suitable time like: golden year of business, business grows well, festival time, president election time, holiday time,… then the demand of customers are very high. They buy hair a lot. It is best time for you to start your hair business with potential hope.
In contrast, if you start your hair business in a difficult time like world pandemic (coronavirus), drought seasons, outbreaks, unrests,… then the demand of customers is very small. They just stay at home for safety, can't go anywhere to show off their beauty. Therefore, it will be not proper time for you to start a hair business
2. Choose a RELIABLE FACTORY VENDOR
Finding a reliable factory vendor is really important. A good factory can accompany with your hair business to the pinnacle of success while other bad factory vendors can ruin your hair business. Therefore, choosing a reliable hair vendor is really necessary. Remember to spend a lot of time in searching and joining many hair groups on Facebook to gain information.
Here is a list of BEST WHOLESALE RELIABLE HAIR FACTORY IN VIETNAM, which is loved and choosen by many Nigeria hair sellers and salons in the world. Click here to find out for now!! CLick CLick Here!! https://k-hair.com/vietnamese-hair-factory-top-best-wholesale-hair-distributors/
3. Willing To Accept The Worst Situations In Hair Business
You really have to love what you are doing, so you don't GIVE UP. Business must have UPS AND DOWNS!! Today you can receive bad feedbacks from customers or many difficulties in your hair business but don't give up, just try THE BEST OF YOUR ATTEMPT. You have gone in a long way, have gone through many barriers, so let's think to reason why you started before you give up. DON'T GIVE UP!
4. Start To Sell With A Super Sale Promotion!
You can follow the trend in the hair market or in the world and run a super sale season for your hair business to get customers' attractions. Everyone loves sale deal right? Start your hair business with a super sale promotion can bring about many potential customers, and these customers maybe will be your loyal customers in the future. Selling at cheap price first to get customers' feedbacks and then increase the price to a rate which brings about benefits to you.
5. Take Advantages Of Social Media As A Way To Advertise Your Hair?
Now is 4.0 social media age, the internet explodes strongly. Potentials customers gather in social media. Let's take advantage of social media platforms to advertise your hair business. The speed of spreading is very strong. Be available in Instagram, Facebook, Linkedin, Twitter, Alibaba, Pinterest,… to approach all potential customers and create your own brand name.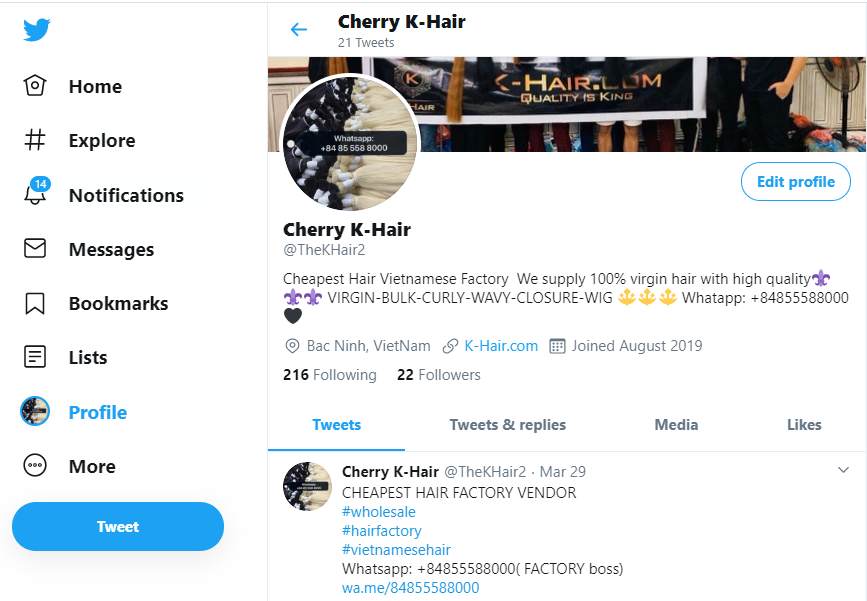 6. Create A Brand Name With Special Logo
A Hair Bussiness Brand Name is compulsory to start hair business. An impressive band name and logo brand will be the sign for customers to remember and recognize your brand name with other hair brands. Try to make the name and brand logo special and prominent among other hair vendors!
Doing business is very important and it needs careful preparations before start hair business. The better preparations, the more successfull. If you have intense interest in hair business, follow your heart and do it from now!