Hair Vendors Scam: Be Alert When Buying Online!!!
You have been working hard for your hair business: enrich your knowledge about hair business, set up your own store, build your own brand, and now you are ready to import good quality hair for your hair business! However, you are overwhelmed with the recommendations from the Internet. All hair vendors claim to supply the best real human hair at the best price, with the best reviews, along with the best customer service. However, are they all too good to be true? Unfortunately, with more options comes more opportunities for being scammed. In this article, Laurel Expert is willing to share with you all about how to notice hair vendors scam, and how to find a trusted one.
Hair Vendors Scam: How to avoid?
Below are some steps you should take when buying human hair at an online shop
Avoid Hair Vendors Scam: Buy from a reputable brand
If you buy human hair from an online vendor, it is imperative that you make sure it is a reputedly branded one. The trusted brand should have its own website, and other vendors might carry the same brand if the hairs are high-quality. If you can hardly find the proof of the brand on the internet, they might probably be hair vendors scam.
You can read this post to find more about hair distributors in England and to understand more how are top reputable brands are described!
Avoid Hair Vendors Scam: Compare prices
It is extremely important to regularly compare prices when shopping online. Hair in bulk wholesale scam tend to use genuine photos of hair from other big vendors to mislead you, while the human hair you will end up receiving is a cheap imitation. The prices of hair sold by reputable hair vendors may vary by dollars and cents — but not up to hundreds of dollars. So, if a deal for high-quality human hair seems too good to be true, it probably is. Remember that Hair Vendors Scam are everywhere!
Read the reviews of Hair Vendors Scam
Customer reviewing is a great manner to grab knowledge about the real experiences the customers have with hair bundles, the company, and its services. You should visit customer review websites about the online hair shop you want to buy from, or do some quick search on Google for the brand name plus "reviews" or "scam." If most of the reviews are negative, or the number of total reviews is too little, you might want to reconsider ordering from that vendor, they might be hair vendors scam. Reputable wholesale hair vendors will have a high number of total reviews, and most of them should be positive.
Avoid Hair Vendors Scam: Read the store policies
Make sure to look into an online hair shop's return and refund policies. If their return policy makes you jump through hoops in order to get your money refunded, they are likely to be hair vendors scam and may not be the best site to order from. The best online wig shops aim to make your shopping experience hassle-free, even when it comes to returns. Also, keep in mind that scam sites may even copy return policies from genuine websites, so you'll need to look for other signs that the site is legitimate.
Double-check the URL to spot Hair Vendors Scam
Some hair distributor scam websites imitate popular brands to trick their customers: copy names, logos, hair descriptions, and so on to lead you thinking that you are buying from a reputable company, when, actually, you are not. In this case, it is recommended that you  double-check the web address to ensure you are not involved with hair vendors scam. 
Avoid Hair Vendors Scam: Beware of social media advertising
While reputable online hair shops often advertise on social media, most do not accept payments through social media platforms. If you like a wig that's being advertised to you on social media, make sure to click through to the website to research the item and only make your purchase once you're satisfied that it's a genuine website.
In summary to avoid human hair bulk business scam: be cautious when shopping for wigs online, do your research, and double-check the small print to ensure the safest online wig shopping experience.
Hair vendors Scam: Can I find a trusted one?
Below are some tips for you to find the best-trusted hair vendor!
Hair Vendors Scam won't have a Verified Brand Name
A reliable hair factory, unlike Hair Vendors Scam, must have a well-verified brand name. Trusted hair vendors upload all hair photos and videos on social media having a trademark, watermark, hair label, logo label tag to authorize the products. Meanwhile, Hair Vendors Scam have unverified brand names or no logo on products, which makes you unable to track their origins.
Hair Vendors Scam won't have Verified Company Registration
K-Hair Factory is regarded as a leading hair vendor in Vietnam, verified and registered in many countries in the world such as Vietnam, Nigeria, and the United States. K-Hair is envisioned to become one of the leading hair vendors in the world, supplying Vietnamese hair worldwide even in the strictest market like Europe or Russia.
Verified documents to spot Hair Vendors Scam 
K-Hair factory, the Asia top wholesale hair distributor, unlike Hair Vendors Scam, has celebrated the anniversary of 30 years of experience working in this industry. Becoming this successful today, the K-Hair factory is honored to receive so much love and support from our loyal partners, loyal customers from all over the world. This video is our sincere thanks to dear customers in our 30-long-journey. Kindly watch the video here:
Hair Vendors Scam won't have Physical evidence
A real hair factory for importing Vietnam hair must have their REAL factory. A hair factory, with no physical evidence of the factory, being afraid of making video calls with their customers, is 90% a commercial company, intermediate company, or simply a middleman.
Insurance and Refund: Hair Vendors Scam might be lacking in
Hair wholesalers and retailers like you have to pay a large bulk of the money from overseas. However, when you physically touch the hair, you are dissatisfied. The hair is not as silky as when the sellers show you, and the bundles or closures/frontals get shedding even when you gently run your hair through. Definitely, they are not worth what you paid for, but you can not return the hair. The hair vendors scam keep silent, leaving you there with the shedding bundles. By and large, there are little Vietnam hair vendors providing insurance and refund programs for their hair, except for K-Hair Factory.
As the biggest and most trust-worthy hair factory in Vietnam, K-Hair Factory guarantees that the hair lasts long (3-5 years) with no shedding hair, no losing waves. Especially for customers who have bought hair from K-Hair Factory within 2 years, please contact K-Hair Factory to restore the hair. 
Besides K-Hair Factory, Anka Hair Company is also one of the most reliable hair vendors in Vietnam, for more information, kindly follow this link: Anka Hair Reviews: One Of Reliable Distributors In Vietnam
K-Hair Factory is regarded as the leading and the most reliable hair vendor supplying Vietnamese hair. With more than 20 years of experience in this industry and 10 years of experience in penetrating the global hair market, K-Hair Factory has now become the most trusted vendor to many big hair wholesalers and retailers worldwide.
A wide range of Vietnamese hair extensions that K-Hair Factory supplies include: weft straight hair, curly and wavy hair, kinky and pixie hair, closures and frontals, full lace wigs,… all are 100% Vietnamese hair. K-hair Factory supplies hair to two main markets: the African market and the European market.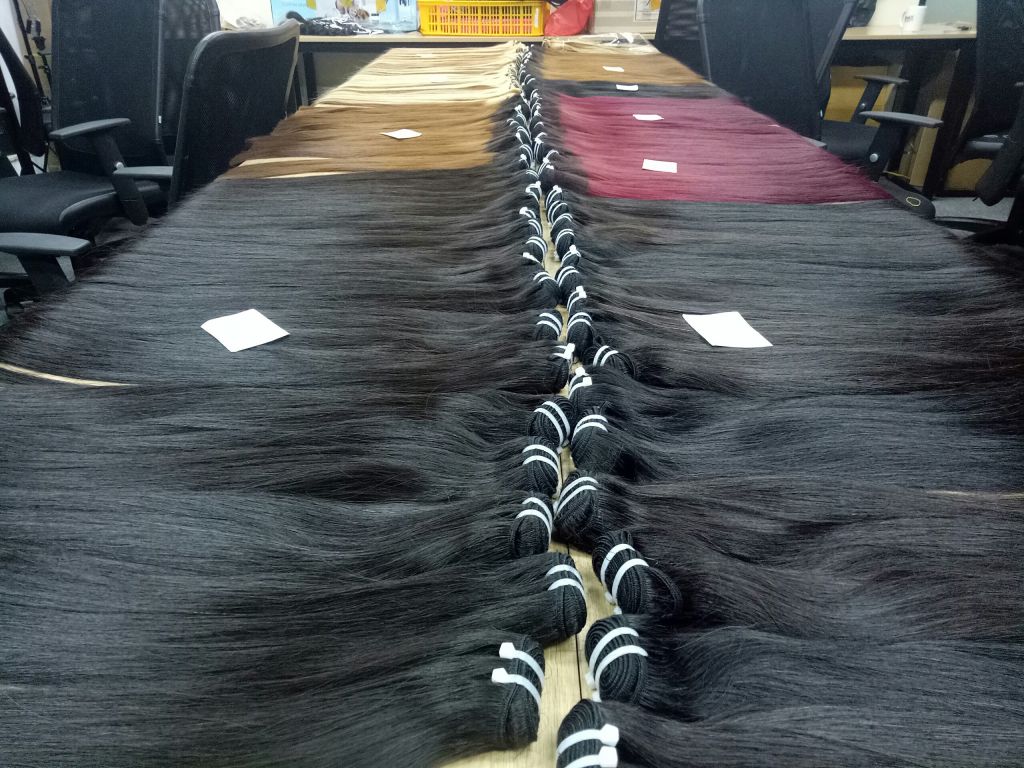 More information about "How to Import Vietnam Hair", kindly read: How To Import Vietnam Hair? – Best Detailed
Deal directly with K-Hair Factory to get the best factory prices for your Vietnam hair!