African Hair Business: Top 7 Steps From Expert To Start
It's no doubt at all that the hair industry (especially human hair) is getting more lucrative than ever in Africa: from braiding to weaving, from coloring to styling (curtain bangs, curls, bleaching, etc), from treating to relaxing, hair doing is now becoming a beauty ritual in Africa. Thus, learning how to start a hair business is certainly a profitable one. To promptly ride the crest of this wave, many have built a startup for human hair selling, but success is vague to catch any sight of.
Whether you are embracing the idea of working in hair beauty, or you have already run your own hair business, but still gained little profit, this article is for you!
There are seven ultimate aspects revealed by experts that can help make your hair business fruitful and then scale it up, all go as follows.
1. Be an expert
The first thing you need to do when stepping into hair business…
Just like when you set up any other business, you need to gain deep knowledge of what you are going to sell as hair sellers. You are going to have lots of African customers with a wide range of hair features, also separately individual wants such as human hair extensions, wigs, and braids,… that only a knowledgeable hair seller knows what's the most suitable hair for them. Thus, learning about human hair available as well as the differences among its types allows you to advise your African customers.
While other races can have straight, wavy, or curly strands, most African people have varying degrees of tightly curled strands. It may come in spirals, coils, loops, zig-zags, or other curves. This is why it tends to grow up rather than down and can make gravity-defying shapes like afros and puffs. Therefore, perms, weaves, and extensions are all options for African women, and sometimes simultaneously.
About perm for African women,  it's referred to permanently straightening their hair (also known as a relaxing). For a weave, an African woman's real hair is braided into cornrows or other scalp braids. Then the extra hair is woven to those braids with a needle and string made especially for hair weaving. When it comes to hair extensions: hair extensions are like weaves but they don't usually require the cornrows as a base. Depending on the type of extensions, the hair may be added through braiding or even specialty glue.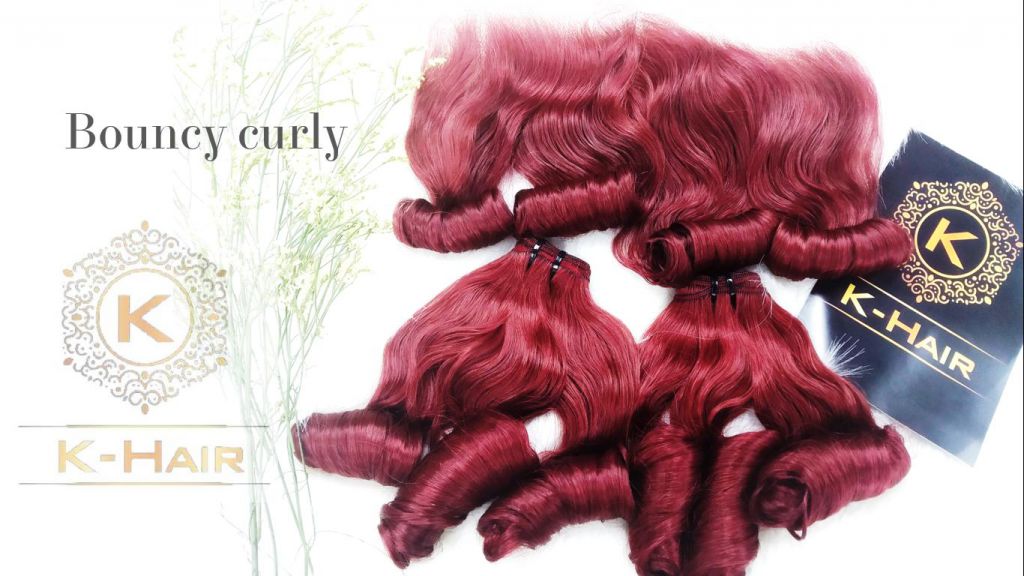 For example, if an African girl wants to buy three bundles of weft human hair for her personal use and you hand her some of the European hair because you don't know the difference, then surely she will think of you as inexperienced or one of the prestigious hair suppliers and not choose your hair shop. Only by grasping every hair bundle like the back of your hand can you best serve your customers, and then wait for their turning back to you the other time.
2. Conduct thorough market research 
The importance of conducting market research
First, we should clarify what is "market research"? It can be described as the action of gathering, analyzing, and interpreting information to help solve the challenges of your hair business. We use market research for a variety of reasons, it helps us make educated decisions, for example, determining the feasibility of launching some hairstyles from a new vendor before dedicating time and budget into the new venture.
Market research is a vital element when developing strategy for your African hair business. When done correctly it can help to enlighten your hair business activities – such as understanding the requirements of your target customers & other hair in bulk resellers, helping to understand what key messages you should convey and how to convey them.
Market research should be treated as an ongoing activity – you should always be learning about your hair business environment, your customers, and their needs and preferences. The African hair industry is constantly changing so it's important to make sure you are researching it and understand what factors are changing that could impact your business plans.
To understand African hair market
Catching the latest trends for human hair extensions as well as the market demand about which types African women want will put you and your hair business in a much better advantage to your competitors. Thus it's necessary for you to catch the newly available hair extensions in the African market. In carrying out research on where you would get many genuine hair extensions from, you would need to make it through.
Asides visiting vendors to determine what customers buy, you would also need to read current hairstyle magazines, be on the lookout for individuals and what hairstyles you are seeing more people wear; finally, you might also need to visit hair extensions retail websites as this would also help you determine what hair extensions to get for your store.
3. Identify your customer needs
It's important to know who your customers are
Customer needs are the verbal and non-verbal needs your customer has when they come in contact with your business, your competitors, or when they search for the solutions you provide.
Identifying customer needs is mission-critical for businesses looking to create a product that truly speaks to their customers' problems. Not to mention, the easiest way to position your hair business brand smartly in the market is to unite your internal teams behind the specific needs of your customers.
Your target customers in the African hair market
There could be many reasons why African women are purchasing human hair extensions. They may want them for a special function, or daily use for aesthetic or health purposes. Often, hair can become quite thin due to medical treatments, such as chemotherapy or due to vitamin deficiencies.
Consequently, a large fraction of customers may have that shared purpose of purchasing human hair extensions. Therefore, it's important to consider the way you market your hair and know existing charities that may offer these services for free.
The demographic and psychographic composition of those who use human hair extensions in African are:
Primarily black women
Women want to possess beautifully long and silky hair
Black-haired women want to change their hair to colored one without dying it
Elderly women who have lost their hair
Patients who have had to lose their hair due to an illness as well as other young women of other colors
Music celebrities
Movie actors and actresses and high classed personalities have not been left out of those using hair extensions especially as they are able to change their looks whenever they want.
4. Create Your Own Unique Brand
Branding, by definition, is a marketing practice in which a company or an organization creates a name, symbol, or design that is easily identifiable for the customers to remember you. This helps to identify a product and distinguish it from other products and services.
Branding is important because not only is it what makes a memorable impression on consumers but it allows your customers and clients to know what to expect from your company. It is a way of distinguishing yourself from the competitors and clarifying what it is you offer that makes you the best choice. Your brand is built to be a true representation of who you are as a trusted hair business, and how you wish to be perceived.
There are many essential steps that are used to develop a brand for hair business including advertising, customer service, promotional merchandise, reputation, and logo. All of these elements work together to create one unique and (hopefully) attention-grabbing professional profile.
How can you make your ever-lasting mark in the African human hair extensions industry and make customers want to buy from you over another hair business? Well, this is where branding comes into play. Creating a consistent brand image will help your human hair business for the African stand out and be memorable in the African market for human hair.
You want to think of a strong name for the brand of your hair business. It doesn't necessarily need to be clever or overly complicated. On the contrary, it's better if you keep it simple: you want a name that is easy to remember and describes your business. Trust me: in this case, less is more. Once you've come up with a name for your hair business that meets those requirements, you want to make sure that it's available as a domain name. Ideally, you also want to use that same name for all of your social media handles and your hair packaging.
5. Marketing in the African market
Marketing is the heartbeat of your hair business without which your company will look dead and washed up to customers. Let's go over some of the primary marketing channels for you to sell your human hair.
Instagram
Instagram gives your hair business the chance to showcase the brand through pictures. With the number of monthly active users on Instagram going beyond 700 million, Instagram has become the hub of social selling. By using relevant design and picture content, you can sell your high-quality human hair to the customer without actually pitching it.
Instagram also has various features like grouped photos to help you market your product better. If you make use of these features to increase engagement along with making the customer aware of offers, your sales are bound to increase. You can also try out influencer marketing to connect with more customers. Another very lucrative feature that Instagram offers is – live videos. These are great for showing unboxing videos, conducting giveaways, and bringing to notice any new products you might want to sell to the user. By making these videos interactive you can even know what your customers are looking for so may serve them better
Facebook
With 1.6 Billion users it is hard to deny that Facebook is one of the biggest opportunities to conduct marketing your hair business in the African market. There are many ways through which you can sell directly on Facebook or market your brand to redirect prospects to your African hair store.
The very recent Facebook marketplace is a great platform to sell your hair locally. It connects buyers and sellers easily and almost anyone on the platform can sell. Next is Facebook groups. These are groups formed by individuals with a purpose to buy and sell. Thus this is where you can sell your products and even market them. By sharing pictures, answering your African customers' queries, you can showcase your hair business brand to a passionate segment of people who will further promote your hair extensions.
Youtube
YouTube cannot be directly used for your hair business to sell your human hair but it is a great platform for marketing your brand and bringing more users to your hair business. By posting authentic videos of customer testimonials, know-hows, upcoming sales, and current offers, a larger set of users can be directed to your store. If you are looking out to sell through social media, make sure you adapt to these platforms and make use of all the features.
These features help you connect with the customer. Rich content and proper information shall go a long way in generating leads for your e-commerce hair business. While you're out there selling your product, it will only reach the customer once it is shipped through secure channels.
6. Choose the right vendors for human hair
How to choose a good supplier for human hair to your African hair business? The best human hair suppliers in the current hair market are basically from Vietnam. But not all Vietnamese human hair suppliers are the best choice. You can find hundreds of virgin hair manufacturers and suppliers in Vietnam, but to pick the best one, you also need to look at the following points:
Quality – You should obtain detailed product information from multiple human hair suppliers, order a small order for testing, and then choose the one that is most satisfactory to you. In the 100% human hair market, there are huge differences in quality among vendors due to specific geographic factors, thus you have to carefully choose. Besides, you need to inspect the quality control, production process, packaging, delivery, and after-sales service of quality wig factories.
Price – If you are looking for a virgin human hair supplier, it means that you should be a professional wig wholesaler or retailer, and you want to buy in large quantities at the lowest price so that you can get the maximum profit from it. Then, in the case of ensuring quality, the lowest price is absolutely what you can pursue. To get the lowest price, you may have to work directly with an international manufacturer instead of buying from a local distributor, as most human hair used for weaving is collected and produced in Asia, especially in Vietnam.
Factory – Choose the supplier with a wig factory, not a trading company that acts as a middleman. The supplier has its own human hair factory not only to provide you with the lowest wholesale price but also to meet your various requirements for quality, quantity, and design. The availability of various human hair bundles and weaves (such as curly, straight, long, short, lace wigs) allows people to exercise their choices and get a look that suits them. Vendors of wholesale human hair weave make it easier for sellers and local salon owners to provide the best service to end-users.
7. Find a mentor
Stepping into the pool for African hair business startuppers with lots of things unclear, you really need a mentor who can truly share his or her wisdom about the hair industry with you on an ongoing basis, and in a manner that can have a direct, positive impact on the growth of your hair business over time. They have entrepreneurial business experience in this industry than you who serves as a trusted confidante over an extended period of time, usually free of charge.
Does this sound too good to be true? Well, it doesn't. Being a mentor to an up-and-coming entrepreneur is a great way of giving back to the community, and society at large when their advice and guidance can have a measurable impact on helping their mentees. Not only being a mentor, but they also are teachers, managers, strategists, and consultants for your hair business.  And a true mentorship relationship also works in both directions—your mentor gets to learn about new ideas, strategies, and tactics from you, just as you'll learn timeless wisdom from them.
This is advice from a startupper in the African hair industry now becoming a successful wholesaler:
If you are setting up your hair business and looking for a mentor to guide you through this difficult and challenging time, feel free to contact Experts from K-Hair. With 20 years of experience in the hair industry and 10 years of experience in penetrating the African hair market, we wish to offer you consultation 24/7 and free of charge.
Contact Laurel Expert from K-Hair for more advice,