How To Import Vietnam Hair? – Best Detailed
How To Import Vietnam Hair?
You are a hair wholesaler, a hair retailer, or a hair reseller! And you are in pain searching for high-quality human hair for your business? You have been struggling with the customs airport to import your hair? You are seeking your true vendors? You might be scammed? Then this article is definitely for you! In this article, Laurel Expert (from K-Hair Factory) is willing to share with you all about Vietnam hair and how to import Vietnam hair from reliable and trustworthy factories!
1. Import Vietnam hair – all things about
Many hair sellers nowadays choose to import Vietnam hair instead of hair from other countries such as China, India, Peru, due to its perfect texture, and the modern technology that Vietnamese workers apply to the manufacture. Almost every Vietnamese hair factory is now a prestigious wholesale hair distributor. Below are some noteworthy features about Vietnam hair.
1.1. To import Vietnam hair – Its definition is must-know
Vietnam hair is hair directly harvested by young Vietnamese women. Vietnam hair strands are straight, round, and thick with a dense level of black melanin. Due to the perfect texture, the capacity to bleach and dye, the superb durability of Vietnam hair, it has recently become the best choice to import Vietnam hair for your hair business.
1.2. To import Vietnam hair – you must know its characteristics
After import human hair, you can do many things with it, such as flattening, curling it up, and so on. Meanwhile, you are free from worry that your hair will get damaged. Have you ever wondered why Vietnam hair can do that? What are the characteristics that build up so much of its perfect texture? Let's find out!
Human hair: import Vietnam hair is one hundred percent of original human hair provided by young Vietnamese women and made into hair extension by famous hair warehouse.
Unburned hair: most import Vietnam hair is supplied by the female villagers in the mountainous areas. The weather here is cool all year round, hence the hair is hardly got burned by the sunlight
Wiry hair: most Vietnam hair (supplied by K-Hair Factory) is provided by young Vietnamese women ranging from 18 to 30, that's why Vietnam hair is extremely beautiful and strong
Glossy and shiny hair: import Vietnam hair is carefully selected from women who routinely wash their hair with natural ingredients such as locust, holy basil, skin pomelo, and grapefruit peel, thus it is very silky and shiny
Strong and durable hair: the female villagers in the mountainous regions work all day, hence enjoy strong health. Their hair is durable and strong as well. Under the proper conditions, Vietnam hair can last up to 5 years.
1.3. Import Vietnam hair – but which types?
In the global hair market, there are 3 main types of hair as follows:
Virgin hair: virgin hair is unprocessed raw hair, directly harvested from a single's donor. Import Vietnam hair virgin, you can bleach and dye it with vibrant colors
Remy hair: Remy hair is hair collected from a group of people having the same characteristics. All the hair strands stay aligned in one direction of the cuticles, therefore its roots and tips run unilaterally. Import Vietnam hair remy, you can dye it with dark shades of color as you want.
Non-remy hair: Non–Remy hair is also 100% human hair, but it is collected and sorted out from many different and even unreliable sources: from many different vendors, from many people with different characteristics, or even on the floor of the hair salons. The hair strands are mixed all up, un-unilaterally, which makes the hair get tangled and frizzy over a very short period of use.
In case you are in search for some interesting styles to customize from these 3 types of hair, cutting curtain bangs is an amazing choice! Read more here: 3 best ways to style curtain bangs.
As non-remy hair is non-cuticles hair, it must go through a chemical process to remove the cuticles. Then the natural moisture decreases, the hair strands turn out like straws. To cover up this problem, non-remy hair is then coated with silicon to keep it shiny and silky. As time goes by, the chemicals get washed off by shampoos and daily uses, causing the hair to tangled, dried, and frizzy. For all of these reasons, non-remy hair is not recommended for long-term and sustainable uses.
Import Vietnam hair, you should understand these 3 types of hair, which enables you to choose the most suitable hair types for your business. However, be wary with the bad vendors can sell you non-remy under the name of virgin or remy hair.
At K-Hair Factory (the biggest hair factory in Vietnam), there are only 2 main types of hair for sale: virgin hair and remy hair. Unlike Chinese or Indian hair usually gathered hair around and bundled together, each and every bundle of Vietnam is carefully taken from the donors, meeting all the standards, even the highest and strictest in the global hair market.
Here is a list of BEST WHOLESALE RELIABLE HAIR FACTORY IN VIETNAM, which is loved and choosen by many Nigeria hair sellers and salons in the world. Click here to find out for now!! CLick CLick Here!! Vietnamese hair factory – top best wholesale hair distributors
2. How to import Vietnam hair?
As normal, most of the purchasing procedures for Vietnam hair from Vietnamese vendors go like this: First – you place your order, then the vendors will make the invoice for you. After you two finalize the invoice, you will have to transfer half of your bill to the vendors as the deposit so that they can start the production. After the production is finished, you will transfer the rest and they ship your hair to you.
However, when you import hair from overseas, you have to encounter a lot of barriers against language, payment, shipment, and so on. Besides, you two are so far from each other and were just getting to know each other through screens, thus you are prone to be scammed. Therefore, you need to be wary all the time! Remember, if your vendors ask for your deposit equaled to 100%  of your bill, they might intend to scam you. Or if it takes your vendor so much time to produce hair (about 2 months), they too, are scammers.
All barriers mentioned above deter you from import Vietnam hair, leading you to miss out on extremely potential chances to import Vietnam hair. As a hair expert with more than 15 years of experience in this industry, also a Vietnamese native, Laurel Expert (from K-Hair Factory in Vietnam) is willing to share with you all the simple steps on how to import Vietnam hair from reliable and trustworthy vendors. The information following is certainly precious for you – hair resellers, hair wholesalers, or hair retailers, so please be well attending.
2.1. First step to import Vietnam hair – Choose the right product
If you want to do business, no matter what you are planning to sell, you have to conduct market research in the most thorough manner. Only by understanding everything about your products like the back of your hand can you consult your customers properly.
Regarding hair extensions, there are many types, many grades, and many uses that hair resellers and hair vendors who import Vietnam hair must know.
2.1.1. Grades of hair
There are 3 main grades of hair:
Single drawn: about 50-60% of the hair strands are at the same length, the rest are shorter
Double drawn: about 60-70% of the hair strands are at the same length, the rest are shorter
Super double drawn: about 70-80% of the hair strands are at the same length, the rest are shorter
No one loves short hair, right? Surely your customers don't. Too much short hair makes the bundles look unnatural, the closures or frontals ruffled, which also makes it hard to protect them. Because having the most  short hair strands, single drawn hair is the cheapest, next to it is double drawn hair, and super double drawn hair is the most expensive.
Knowing your desires to own the fullest hair with the most reasonable prices, K-Hair Factory (the biggest hair factory in Vietnam) supplies those who want to import Vietnam hair with the most affordable hair, with the hair is full from the top to the tip, even with the single drawn bundles.
2.1.2. Most Beloved Hairstyles when import Vietnam hair
From natural straight hair, you can customize to any hairstyles as you want. Now let Laurel Expert (from K-Hair Factory) introduce the most popular and beloved hairstyles that never go out of date.
2.1.2.1. Straight hair
Straight hair is another name for natural hair. It is naturally straight and black, along with the strong feature, it allows you to style and dye to any shape and color you want.
However, many customers import Vietnam hair and just love to keep it straight due to its perfect texture and silkiness.
2.1.2.2. Bone straight hair
Bone straight hair is one of the most favored hairstyles of all time. Everyone loves its perfect silkiness and glossiness, right?
Besides, many bone straight after colored with vibrant colors can set your customers on fire.
Contact K-Hair Factory to get consulted on the most beautiful color for bone straight when import Vietnam hair.
2.1.2.3. Curly and Wavy
Another type of Vietnam Weft Hair Extensions is Curly and wavy hair – which not only helps you to hide the problems of your hair but also defines your appearance. These hairstyles are the best choice for any diva to increase her look. The hair in question comes in various sizes, lice-free, non-irritating and itchy so it is easy to use.
2.1.2.4. Kinky and Pixie
Kinky Curl, a popular type of Vietnam Weft Hair Extensions is steamed processed for rendering that perfect curl pattern. The mentioned hair is like a gift for the women who have always desired to have naturally coiled hair. These are very soft, dense, and fluffy having a curl pattern similar to a pencil's size. Although, these are very dense, yet lightweight and can be carried easily for many hours.
2.2. To import Vietnam hair – Choose the right vendor
How to import Vietnam hair from Reliable Vendors?
A world away from the vendor, you do not know who your vendor really is, let alone trust him. However, you can tell the difference between real and fake ones, based on their physical and virtual evidence. Laurel Expert (K-Hair) can give you some advice on how to recognize trustworthy hair vendors.
2.2.1. Verified Brand Name
A reliable hair factory to import Vietnam hair must have a well-verified brand name. The brand name is the easiest way to tell the hair vendors to import Vietnam hair apart. With trusted hair vendors, you can see all hair images and videos uploaded on social media have a trademark, watermark, hair label, logo label tag to authorize the products. Meanwhile, with hair vendors having unverified brand names or no logo on products, you cannot track their hair origin, also you are afraid to send them your money for fear that they might scam.
2.2.2. Verified Company Registration
The Verified Company Registration Profile has an essential role in building trust with importers seeking the best vendor to import Vietnam hair. A hair factory or hair vendor with Verified Company Registration Document is definitely a reliable and trustworthy hair vendor for import Vietnam hair as this document shows the validity and solid verification of the hair vendor by the trading government agency.
K-Hair Factory is proudly recognized as a leading hair vendor in Vietnam. K-Hair is verified and registered in many countries in the world such as Vietnam, Nigeria, and the United States. K-Hair is envisioned to become the leading hair vendor and supply Vietnamese hair to all over the world, even the strictest market.
K-Hair factory has celebrated the anniversary of 30 years of experience working in this industry. Becoming this successful today, the K-Hair factory is honored to receive so much love and support from our loyal partners, loyal customers from all over the world. This video is our sincere thanks to dear customers in our 30-long-journey. Kindly watch the video here:
2.2.3. Virtual Proofs
A hair vendor for import Vietnam hair is considered reliable if it is available on multiple trusted social networking platforms such as Facebook, Twitter, Instagram, Amazon, Alibaba, etc. This wide coverage shows how reliable the company is and also its scale. A reliable and large scale hair vendor is proudly appearing on all social client platforms, with verified brand names and photos to work with their potential customers.
2.2.4. Physical evidence
A real hair factory for import Vietnam hair must have their factory in existence. A hair factory, with no physical evidence of the factory, being afraid of making video calls with their customers, is 90% a commercial company, intermediate company, or simply a middleman. Be wary!
Key tips to recognize a real hair factory: Request for photos or videos of their hair factory, then ask them to make a video call so you can closely and carefully check it. The factory which is willing to do this for you can certainly be considered as a real hair factory, not a commercial intermediate hair company.
K-HAIR FACTORY IS KNOWN AS BEST SUPPLIERS TO NIGERIA CUSTOMER IN HAIR MARKET!
Quality : 100% Natural , Not Chemical , Not Mix
The hair is taken from the Vietnamese villagers in the high mountains ( cold weather) , so their hair is really strong and silky ( their hair isn't affected by sunlight ☀)
80% of the hair is from women ( 18-> 25) 👩👩
The villagers from high mountains are very strong in health, they work all day. Therefore, the quality of hair is also together with their health
The duration of the hair is 4 years with the guarantee policy
Market: salons, retailers, wholesalers and other factories worldwide
70% customers are African
Nigeria, US, Canada, Russia, England, Ghana, Thailand,……
Contact : Dealing only with wholesale through Whatsapp, no Instagram Chat.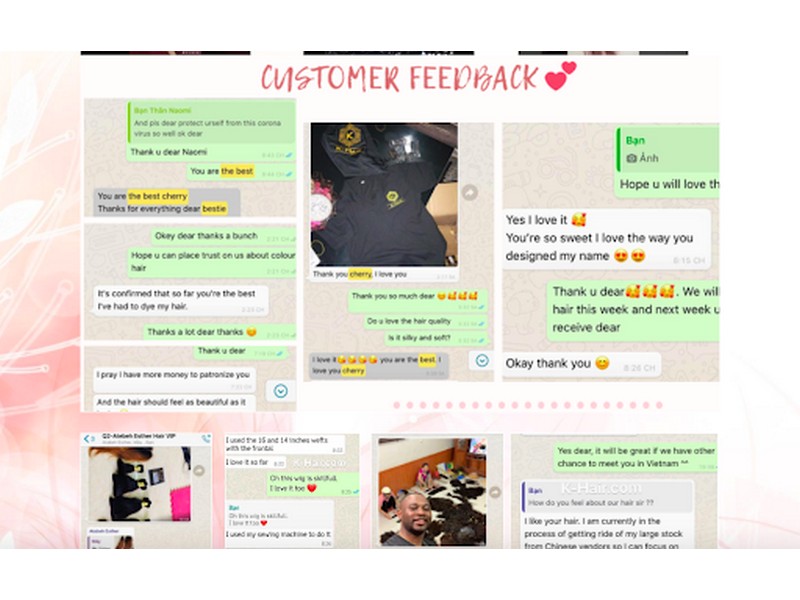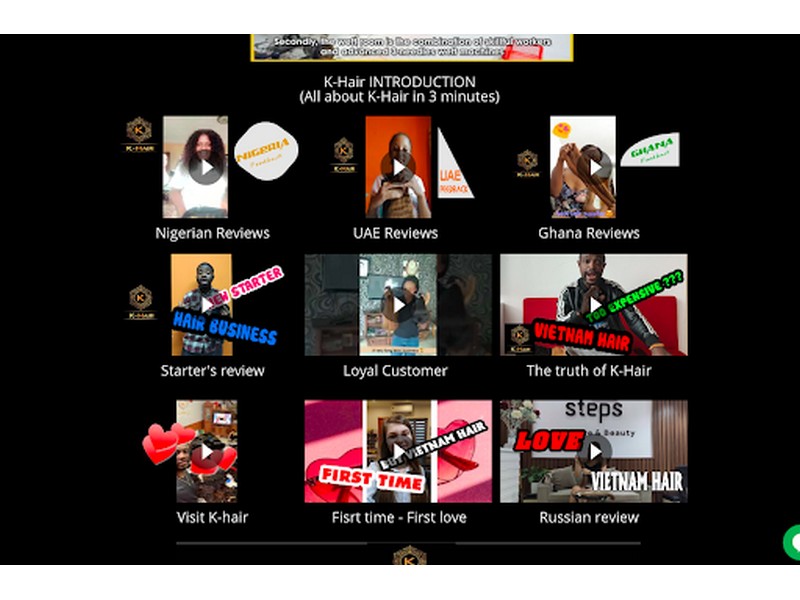 Besides top 1 Vietnamese wholesale hair vendor – K-Hair factory, you can also consult another famous Vietnamese hair distributors here: Jen Hair Vietnam
2.3. Import Vietnam hair by winning the payment barrier
After being all satisfied with the hair and choosing the right vendor to import Vietnam hair, you come to the next process: payment. Then you found out that there are many barriers against this and that you cannot transfer money for the vendor to start the production. You, again, get stuck!
Below are some problems with a payment that certainly, as a hair importer, you have encountered:
As USD is the official currency of the United States of America, also the world's primary reserve currency, your foreign vendors only accept payment by USD or their own currency. If you are a resident living in the country using USD as a means of payment, then the exchange rate is not a problem for you. However, with other customers that do not have USD with you to pay, the exchange rate comes as a nuisance. It fluctuates daily, causing your currency to get more expensive or cheaper over days. Of course, you can not be sure when the USD will fall so that you can start to import Vietnam hair.
For example, to some Nigerian hair importers, the high exchange rate is a big problem these days due to many recent protests occurring in its country. Dollars are getting increasingly rare leading to the high exchange rate. The exchange rate between the dollar and naira is trading between N450 and N550, depending on the sellers and the mode of transfer. For example, some exchange agents these days can charge the Nigerian importers about 500 Naira/USD, while some big hair vendors only charge them the rate of around 450 Naira/USD, or might even charge a much cheaper exchange rate.
Mode of transfer: If you pay directly to the sellers' bank account, or Western Union bank, or Ria Transfer, the exchange rate is much lower. But bank transfer is not easy, especially for those trying it the first time.
Limit exceeding: 
The Federal law limits the number of withdrawals or transfers you can make from your savings or personal account at a bank to six a month. If you exceed the limit, your bank may charge you a fee—or it could close your account or turn it into a checking account. Therefore, you cannot transfer too much money at a time, causing the payment to your vendor staggering.
Or if you find it inconvenient to transfer USD to your sellers, K-Hair Factory can offer you a trusted agent to send Naira through, with the exchange rate is such a deal (just around N400)
2.4. Shipment to Import Vietnam hair
There are many problems encountering foreign importers who import Vietnam hair when it comes to shipment. Many parcels are recorded to be lost on the shipping way. Then purchasers are those who have to suffer all of that loss and uncertainties.
Besides, if the hair vendors do not give you the proper support, you might encounter many problems with the shipment, when you import Vietnam hair, you can even meet the struggles with customs at the airport. In addition, human hair is special goods, if the vendors list it exactly as human hair, then you might be in trouble. You will have to pay thousands of dollars to the airport officers to get your parcel, or even worse in some strict countries, your parcel might be held.
Therefore, choosing the right vendors is strategic. Sometimes, the cheapest price is not the cheapest – you have to be wary when it comes to import Vietnam hair.
K-Hair Factory accompanies the customers with the shipment! They do it all for you: from listing your hair as fibers or synthetic to the importing process so that you can receive your parcel with ease.  Also, all of their services cost only a small amount of money, say, the cheapest in Vietnam.
Contact K-Hair Factory to get the consultation
2.5. Insurance and Refund after import Vietnam hair
Hair wholesalers and retailers like you have to pay a large bulk of the money from overseas. However, when you physically touch the hair, you are dissatisfied. The hair is not as silky as when the sellers show you, and the bundles or closures/frontals get shedding even when you gently run your hair through. Definitely, they are not worth what you paid for, but you can not return the hair. The sellers keep silent, leaving you there with the shedding bundles.
By and large, there are little Vietnam hair vendors providing insurance and refund programs for their hair, except for K-Hair Factory.
As the biggest and most trust-worthy hair factory in Vietnam, K-Hair Factory guarantees that the hair lasts long (3-5 years) with no shedding hair, no losing waves.
Especially for customers who have bought hair from K-Hair Factory within 2 years, please contact K-Hair Factory to restore the hair.
K-Hair Factory is regarded as the leading and the most reliable hair vendor supplying Vietnamese hair. With more than 20 years of experience in this industry and 10 years of experience in penetrating the global hair market, K-Hair Factory has now become the most trusted vendor to many big hair wholesalers and retailers worldwide.
A wide range of Vietnamese hair extensions that K-Hair Factory supplies include: weft straight hair, curly and wavy hair, kinky and pixie hair, closures and frontals, full lace wigs,… all are 100% Vietnamese hair. K-hair Factory supplies hair to two main markets: the African market and the European market.
Deal directly with K-Hair Factory to get the best factory prices for your Vietnam hair:
CONTACT K-HAIR FACTORY TO GET THE BEST DEAL!
CLICK HERE!
3. How To Import Hair From Vietnam To Nigeria?
1. How to start hair business: Have A Profound Interest In Hair Business
You just can do the best in the field you like. This slogan is also true to start your hair business. If you have a profound and intense interest in hair business, then I sure you can show off all your talent ability in this field.
2.How to start hair business: Have An Amount Of Budget
You can't start your hair business if you don't have money right. Money is not all, but it is necessary to start any kind of business. So if you have an intention of getting into hair business next year, you should save money up from this year to spend a budget of capital!
3.How to start hair business: Have A Clear Target: Online Business Or Open A Store?
Determining your target hair business is very very important. You must know what is your plan and what you want to do. Do you want to start from online business or opening a hair store? Only when you know what your target is then you can have a step by step plans for your har business. Each type of business will have a different way to approach it!
4. How to start hair business: Have A Details Plan
Build up your plans in detail. You can use a notebook to write down all your plans for hair business. Create milestones for targets and try to complete them. Remember to apply deadlines for each milestone to make pressure on your self to motivate you. For example, you want to start hair business next year, in 2021. Then you should list up your details plan from this year to prepare. This is an example list:
Learning about the hair business knowledge – Deadline: From 12/4/2020 to 12/5. After 1 month, I can be an authority on hair business
Save up 100USD each month for hair business – Deadline: From 12/4/2020 to 12/4/2021: After 1 year, I can save up 1200USD + support money from my family, I will have 2000USD to start my hair business
Finding a good vendor – Deadline: From 12/5-12/10: After 5 months, I must find a good hair vendor( good quality+ reasonable price) to accompany with me in my business.
Order samples from vendors to test………
CHECK FULL TIPS AND SECRETS TO START HAIR BUSINESS HERE: How to start hair business successfully